Tournaments
Yazphiers view on Swedish Open 2014
Unsure if I should write anything or not, but as nothing seemed to be under discussion, I decided to write my view on this tournament in similar fashion as my previous posts.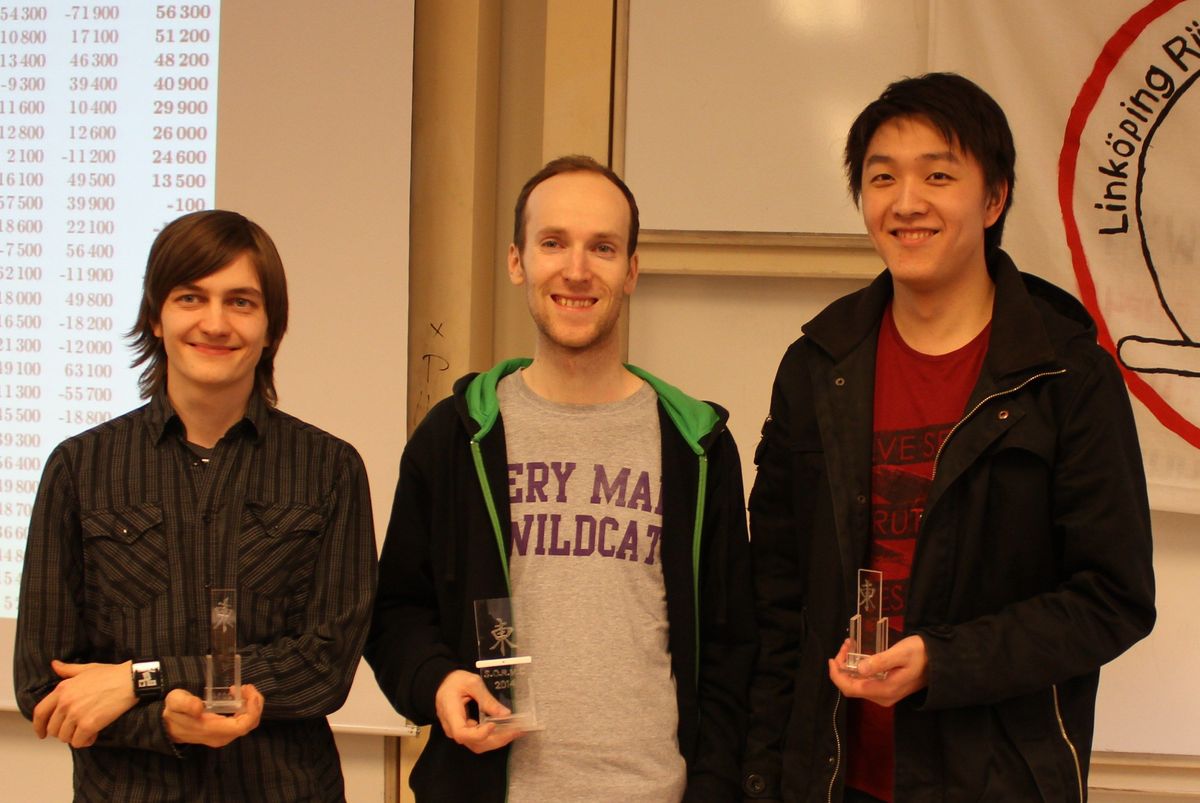 photos by Johan Eidenvall
Unsure if I should write anything or not, but as nothing seemed to be under discussion, I decided to write my view on this tournament in similar fashion as my previous posts. This was the second tournament that my local club arranged and even if I was not an officially announced organizer, I did appoint myself some of the chores and I will not be able to keep an objective view.
Due to doing some work on the english version of our yakusheet, I totally forgot to sleep during the night to friday. My plans to get some rest during the day before heading to the local airport to welcome ron5 got ruined as the Slovak party arrived quite a lot earlier than I had planned.
Once at the train station I got too meet both the Slovaks and three of the Finns, guided them around a bit, mainly to Stångebro, Linköpings "famous" burgerplace, before leaving to get ron5. After some chilling at my place we continued to the social play. About half of the players for the tournament were attending and I thought it was quite nice. Both mikolan and Mikoto arrived late due to some issues in the train service, delays in the 120 minute regions, power failures and even some fabric failure on mikolans part. The Slovaks and Finns were lucky they took that early train.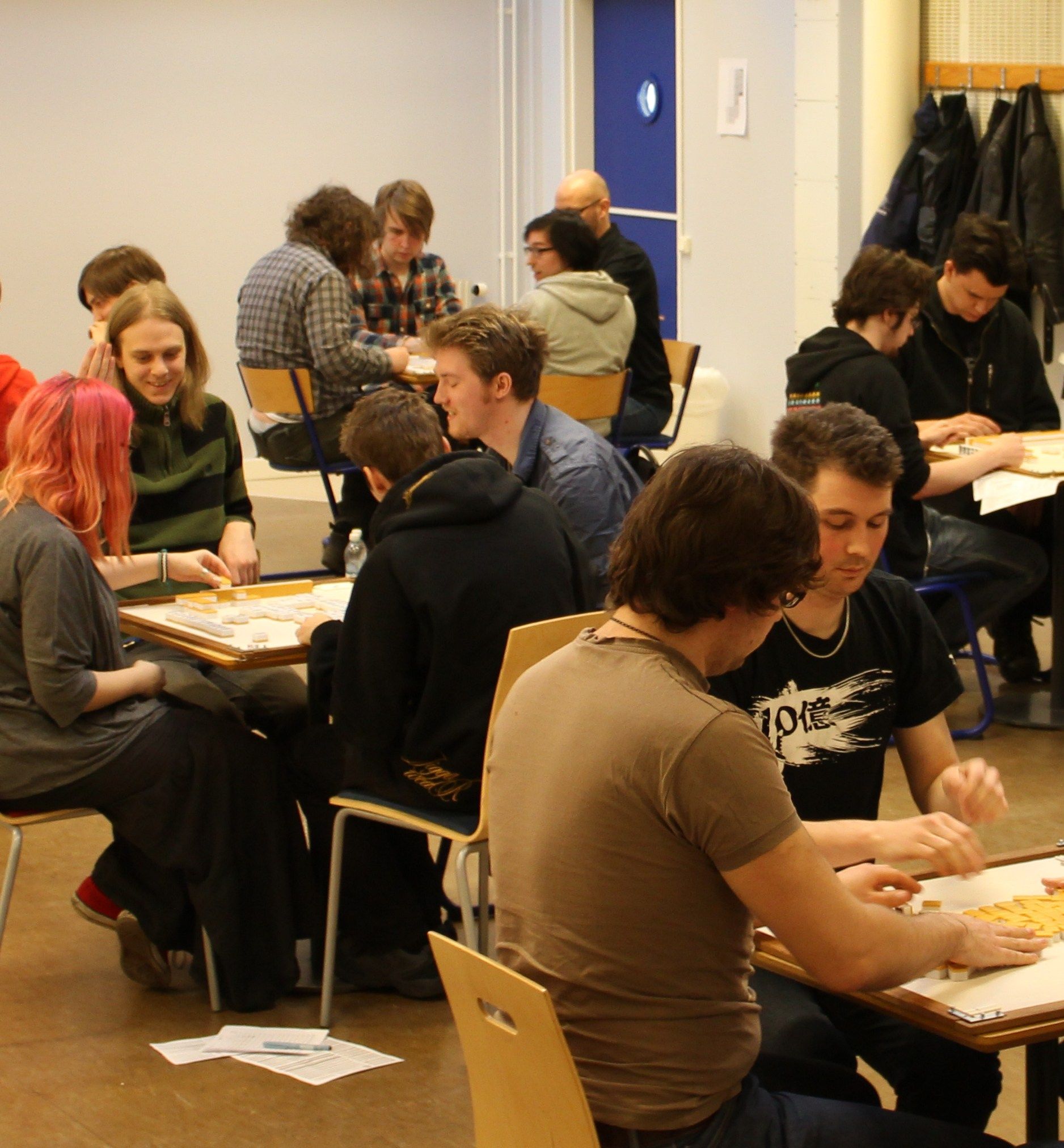 )First day, everything seemed to go as it should and after a short introduction of the rules the First hanchan starts against puppi, one of the Finns and Frank. If I recall correctly puppi took an early lead and I was keeping a steady second place for most of the whole game, however, on the last hand, it got close and I want to remember that the probability of loosing my second position if ending in noten appeared high, so I decided to keep my tenpai and unfortunatly dealt the last player a 2:40 putting me in 3rd place by 600 points.
Noted could be that Sheila managed to pull off a daisangen on her first hand during the first hanchan, being the tournaments only yakuman.
Second hanchan; Playing three Swedish players I havn't met before. My Shimocha took an early lead and continued to play fairly solid and I had to struggle a bit to get second place.
Lunchtime, homemade chili-con-carne was served in lunchboxes, tasted good, and wasn't too little as previous year. Wouldn't say it was awesome in any way, but it did what it was supposed to do.
Third hanchan; ron5 and two Swedish players as my opponents. Once again, don't remember that much of what happened here, and I think I was playing it purely against ron5, but as he didn't get the hands, I got the first place.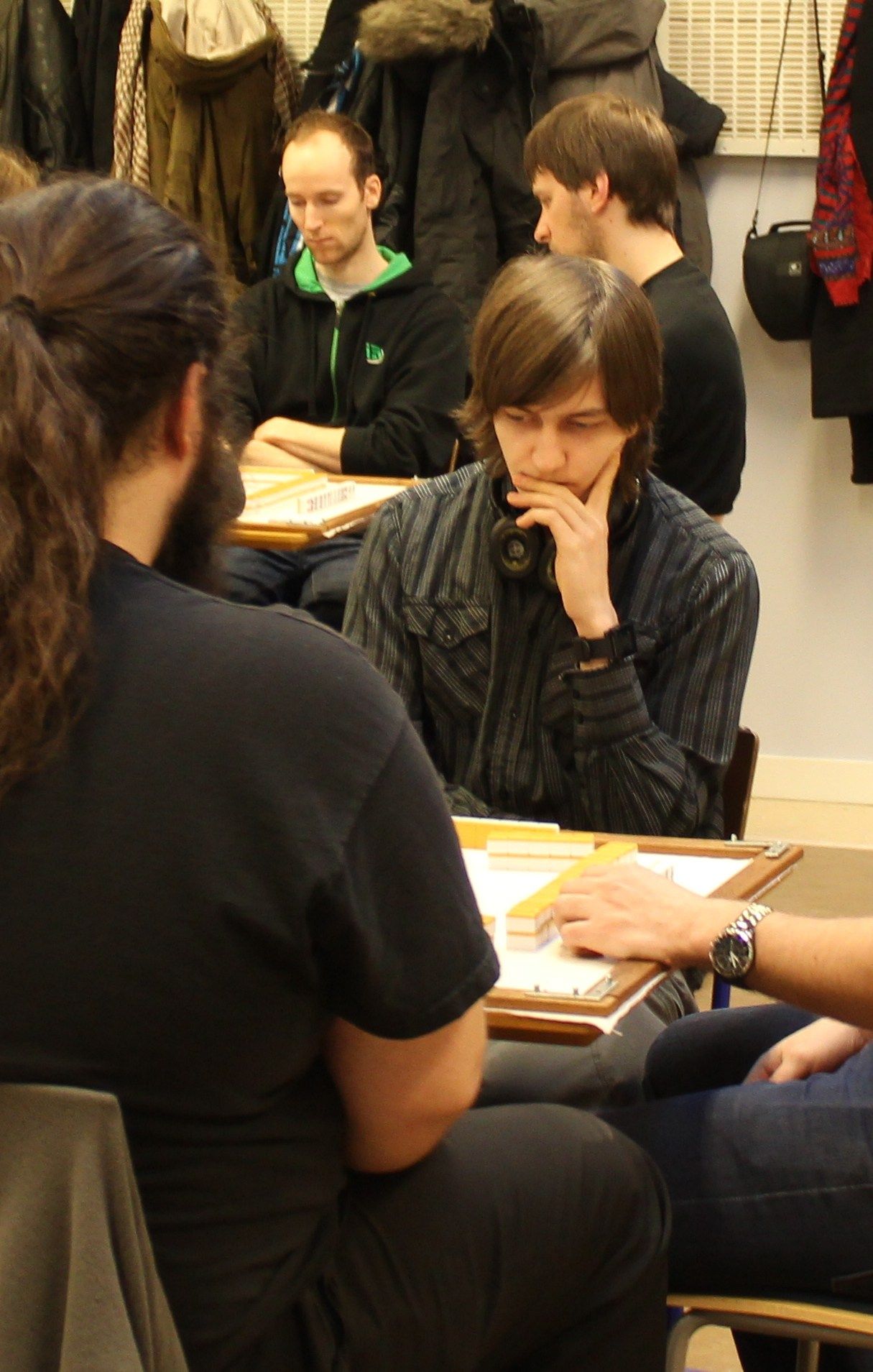 Fouth hanchan; Getting to play against Kirill for the first time, additionally one fellow clubmember and a Swede I've never met before. My toimen got a few quick and big hands putting himself in the lead early, followed by a kuitan chombo putting my shimocha on tilt while we others just fizzled. Round ended with me on third place with one noten payment and one riichi declaration, the rest was tsumos. And hardly any information at all regarding Kirills style of play, he got a nice aura though, and I enjoyed the table.
Time for supper, tenderloin with potato terrin, my first time eating potato terrin and it was quite delicious. After this some players stayed for some social play where I got to play Anders Ye as we were not scheduled to play during the tournament. Unfortunately, he was so tired that I never got to see his style of play.
Even that it was one hour less of sleep due to Daylight Saving Time I felt really well rested during the early morning, but that unfortunately didn't last too long. Two players arrived late for the Fifth hanchan where I was playing Sheila, Stefan and Måns, three players I know fairly well. For some reason I decided to play a lot more agressive than I usually do, which however ended in a down fall when I payed the hanchans biggest hand, a tanki shousangen, luckily it was only a mangan, but it was enough to put me in the last position with no time to recover. I wonder if this has happened before when I play Sheila, that I decide to abandon my normal way of playing?
Sixth hanchan; This time I'm playing another Dane, a for me previously unknown Slovak and a non-local Swede. Majority of the table it felt as a battle between me and Jesper, but towards the end I had to switch focus as I had underestimated Marian who did more tricky play than he appeared to be doing. It was a fun battle where I managed to end up second.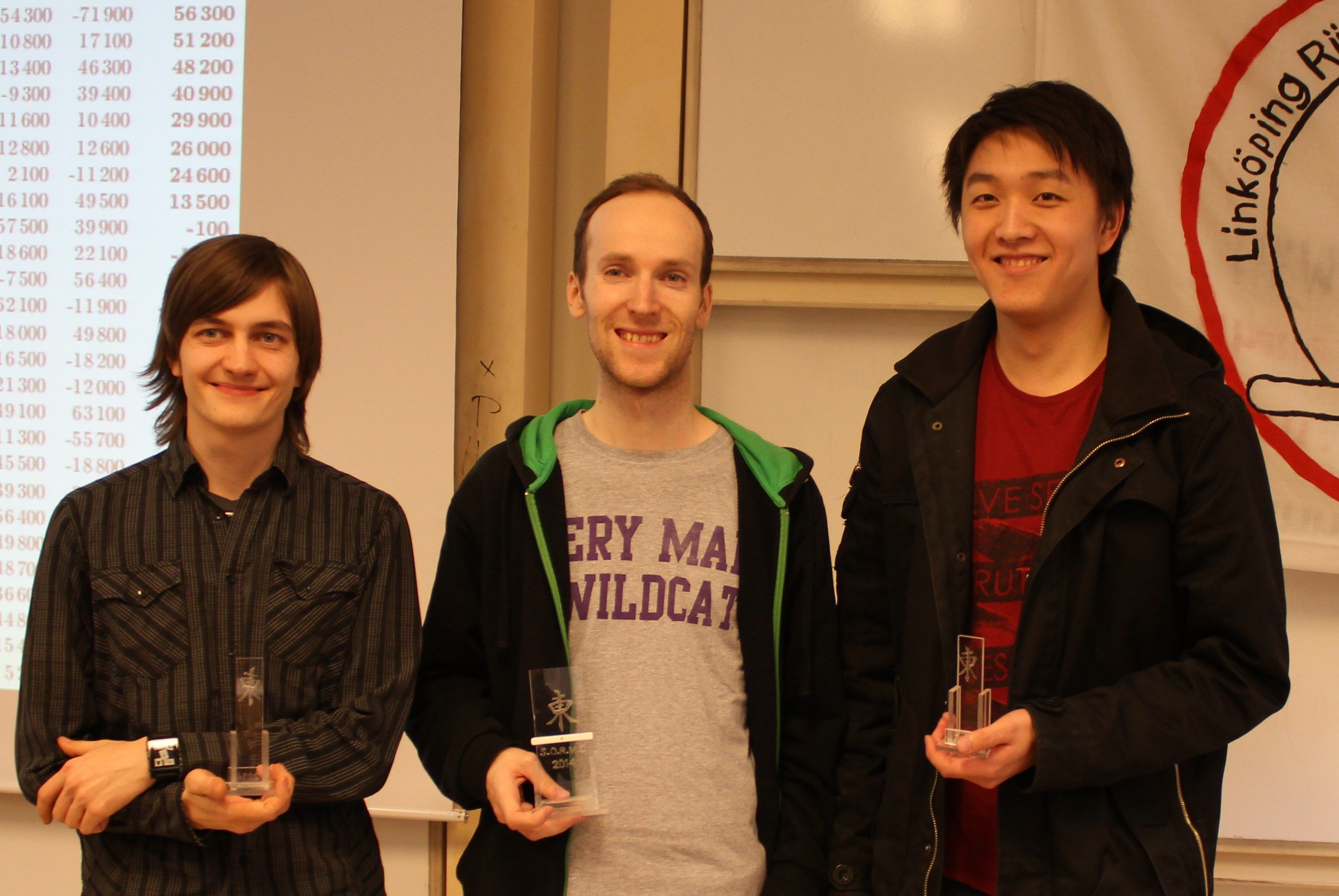 Seventh and last hanchan; Playing Marko, Mark and Karl. Unsure if I have played Marko before, but the others I was definetly familiar with. Had some stroke of luck and managed to pull of some quick and big hands on the expense of Mark. Karl kept a few steps behind while Marko attempted to pull off quite a lot of big damaten hands. Making the round really intense and fun. Even if this first place wasn't enough to compensate my previous losses.
A quick and simple award ceremony with a few photos taken. Winner being puppi, keeping the Swedish Open Championship Title within the osamuko community for another year. Second place got awarded to the Finn Kirill closely followed by the Swede Anders Ye. Making three different nationalities in the top three.
I also feel lucky as I got to play all three Slovaks, all four Danes and two of the Finns and at the same time the majority of the upper part of the standings.
As I personally am involved in the group that organized this tournament, I shouldn't say too much regarding equipment and such, but it appears as most players enjoyed their visit. Photos by Johan Eidenvall who also was the judge during the tournament. And many thanks to people who assisted with additional sets, you know who you are.