I visited Tokyo from the 7th of March until the 21st and yes, I'm still in one piece and don't emit excessive amounts of radiation. Or at least I'd hope so.
So as a fellow denizen of good old #mahjong #osamuko, what do you have to do when you're in the motherland of Riichi Mahjong? Obviously, the course of action is to visit a Mahjong Parlor (Jansou, 雀荘). Thankfully, Mahjong researcher Benjamin introduced me to 2 Jansou and a friend of his took me to another one. This post is supposed to be a report of my experiences there and maybe a small guide to anyone who wants to visit these kinda places.
Shibuton is pretty much my favorite place of the 3 Jansou I went to. After Ben introduced me to it on one afternoon, I went there again alone 2 times. It's more of a "normal" Jansou compared to the other 2, a great place for beginners, the staff is really friendly and last but not least, it's fairly cheap.
Shibuton, as the name implies is located in Shibuya, it's just a short walk from the JR/Metro station, the street left of the 109 shopping building and across the street of a small red-light district further up. It's on the 3rd floor of a shared Building, basically it's a large room with lot's of automatic tables, probably around ~30 if I should guess. Here is the place on Googlemaps/Streetview, note the green-ish sign saying しぶとん, that's where you will want to enter: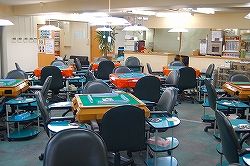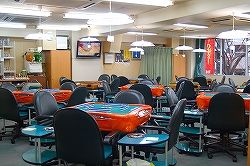 These automatic tables there are quite something too, they already distribute each player their 13 starting tiles (dealer has to draw first too) and turn over the dora indicator fully automatically. So after you get in there, sign up and have the rules explained to you, you wait for the staff to notify you of a free spot to pop up at a table and join in (that system is commonly called "free"). If you come with 3 other buddies, you can basically rent your own table there too ("Set", セット or 貸卓). Usually, at least from what I experienced during my 3 times being there, you continue playing at that table until you leave. That means if none of the other players leave earlier, you will always play with the same people. I guess you could ask to switch tables and opponents too, but that's probably not normal or considered bad manners or whatever.
Shibuton is a no-rate Jansou, which means you only pay fees to the Jansou and don't compete for money with the other players. New signups get coupons worth 1000 yen, with which you can pay your first few games. http://www.shibuton.jp/shop/ You pay according to your placement, each time after a hanchan finishes. First place pays 200, second place 300, third 400 and fourth 500 Yen. A really nice system, while you don't bet money directly with other players, it still retains a bit of a gambling aspect or motivation.
The rules in Shibuton I played with are pretty much standard Tonnansen/Hanchan ariari without red 5s. I saw tables with red 5 sets too, but nobody played at those tables.
The level of my opponents seemed well-enough, semi-beginner like (by japanese standards of course) to have a few challenging but winnable games. Nobody I played with had any obvious troubles with calculating scores and there were few messups. Me and an older lady and got chombo'd for illegally ron'ing (誤ロン) due to bad eyesight, and I had a dead hand once because my kami-cha skipped my discard turn somehow after a chi while I was pondering about my discard.
Anyways, nothing to fret about, I actually expected more fuckups on my side.
Staffers record your results when you pay after a hanchan and then feed it into their database where, you can get a nice little report printed out. Here's a sample sheet from the website and my own one: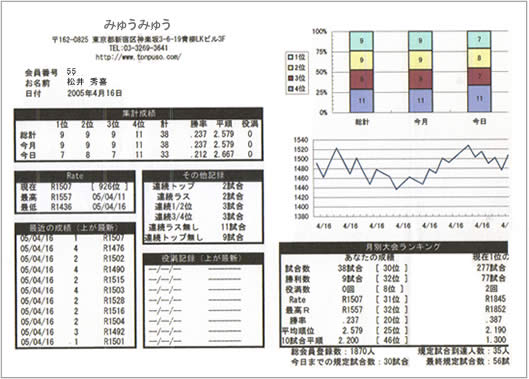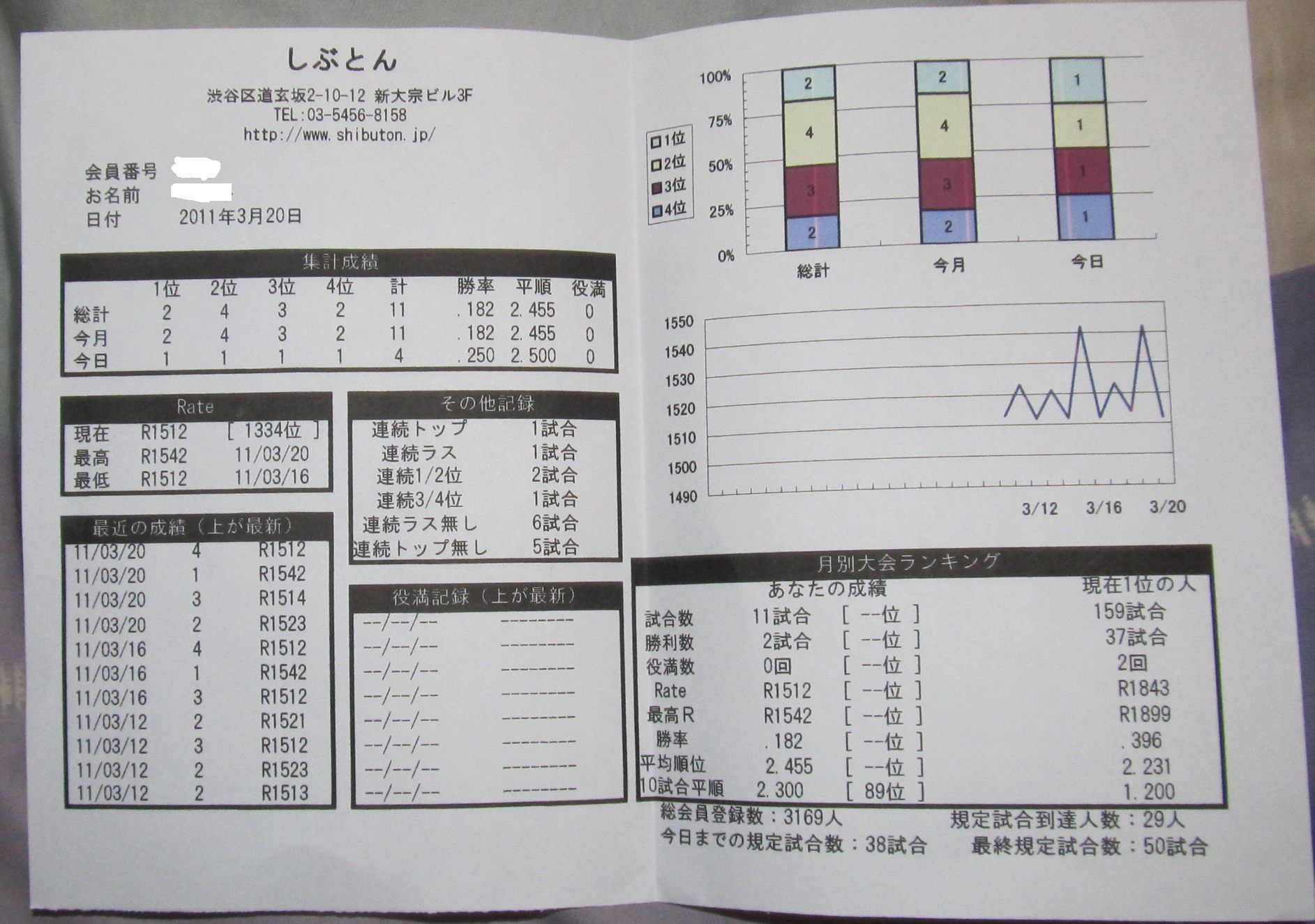 Overall, I played a total of 11 hanchan, with an average rank of 2.455 and Rate of 1512.
On a more or less related note, one guy got a double riichi ippatsu tsumo once. ざわ・・・ざわ
Momijan was the 2nd Jansou I went to. Again, it was thank's to Ben who introduced me to it.
Momijan is located between the Suehirochou (Ginza-Line Metro station) and the JR/Metro Akihabara Station. The easiest way to get there is by getting off at Suehirochou Exit#1, walking straight up the Chuuoudoori a bit until you get here, note the green sign "もみ雀":
It's on the 7th floor of this building, apparantly another Jansou recently opened on the floor below.
And there's a Maidcafe down that floor too, I only caught a glimpse of it on my way down with the elevator when I left and was greeted by a smiling Meido (✿ˇ◡ˇ).
Momijan is a bit special in several regards. They describe themselves as a place for"Relaxation Mahjong". That is because with the points you can earn in various ways, you can get special treats like massages from the female staffers there. Yes, you heard that right. When I left I actually had 14 points, which means I could have gotten such a massage myself, but it seemed a bit awkward and I was in a hurry, so I didn't take that chance orz. I haven't understood the point system completely or how it correlates with the shugi system used in the their Mahjong rules though. Also, from what I have seen, it's not mandatory that every table will play with a girl from the staff, but they sub in quite a bit. So again you register first, buy a stock of Chips for the Shugi-stuff and wait for a spot at a table. We got there pretty early in the afternoon and with only one table playing it wasn't very busy at first, but more customers gradually came as the time passed.
The rules I played with were standard ariari Tonpuusen with red 5s for the most part, but there are some special rules. (Check the green-backed もみ雀戦ルール row on the right side, that's what I played).
As I mentioned before, there's a kind of Shugi System for Placement, winning with red 5s, a special Hatsu (only with closed hands), getting a Yakuman or stuff like busting another player (which I achieved). Also, there's a special Haku tile with which you can Tsumo-win with any tenpai hand, but I haven't seen it happening.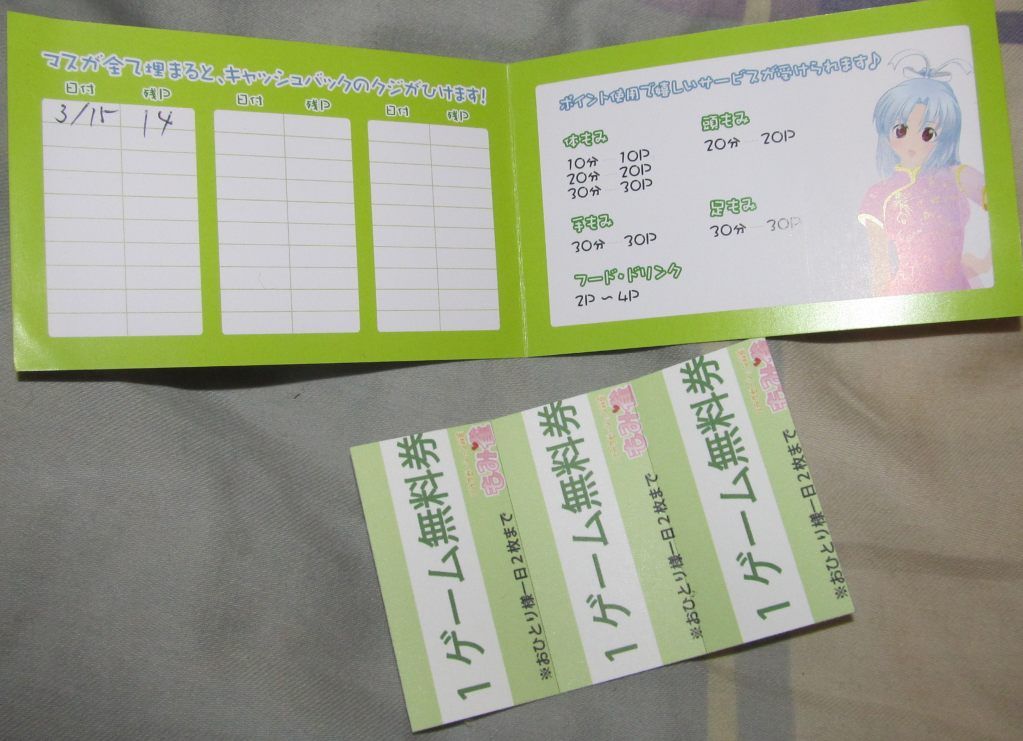 However, I witnessed something quite hilarious during one game at my table:
A guy took a break and let a staffer (a male one) sub in for him. During the round, another player pon'd Haku and Chun ざわ. When it was the staffers turn, he was like "Should I deal this?" to the guy he replaced, who sitting far away having a smoke and no idea what was going on. Apparantly, he was like "yea whatever" and you can probably guess the rest. Daisangen.
Also, apparantly Momijan was recently raided by the police over gambling charges or something.w
Tenpane is pretty close to Momijan in Akiba. Again, get off the Ginza-Line at Suehirochou and find a parallel street on the opposite site of Momijan:
Similar to Momijan, Tenpane is pretty "special" too, in the regard that it relevant to an Akiba-Otaku's interests. You and 2 other customers randomly play with one of the girls there. I went there with a japanese friend of Benjamin (thanks again, mさん).
Again, you need to register first there and then you "charge" a member-card for a number of games to play beforehand. Tenpane has pretty weird and complex system, comparable to an RPG:
You receive special Skillcards for different Jobs at the start which you can use in the game then. For example, with the Fighter skill you can bet 2 1000 point sticks for a Riichi but if you win, the Riichi counts as two han instead of one. Actually, I haven't seen anyone using this stuff in a game there, so it seems even more of a gimmick you don't need to care about too much.
The general Mahjong rules seem pretty much standard though: Tonpuusen only, ariari Red fives (2 red 5 pin).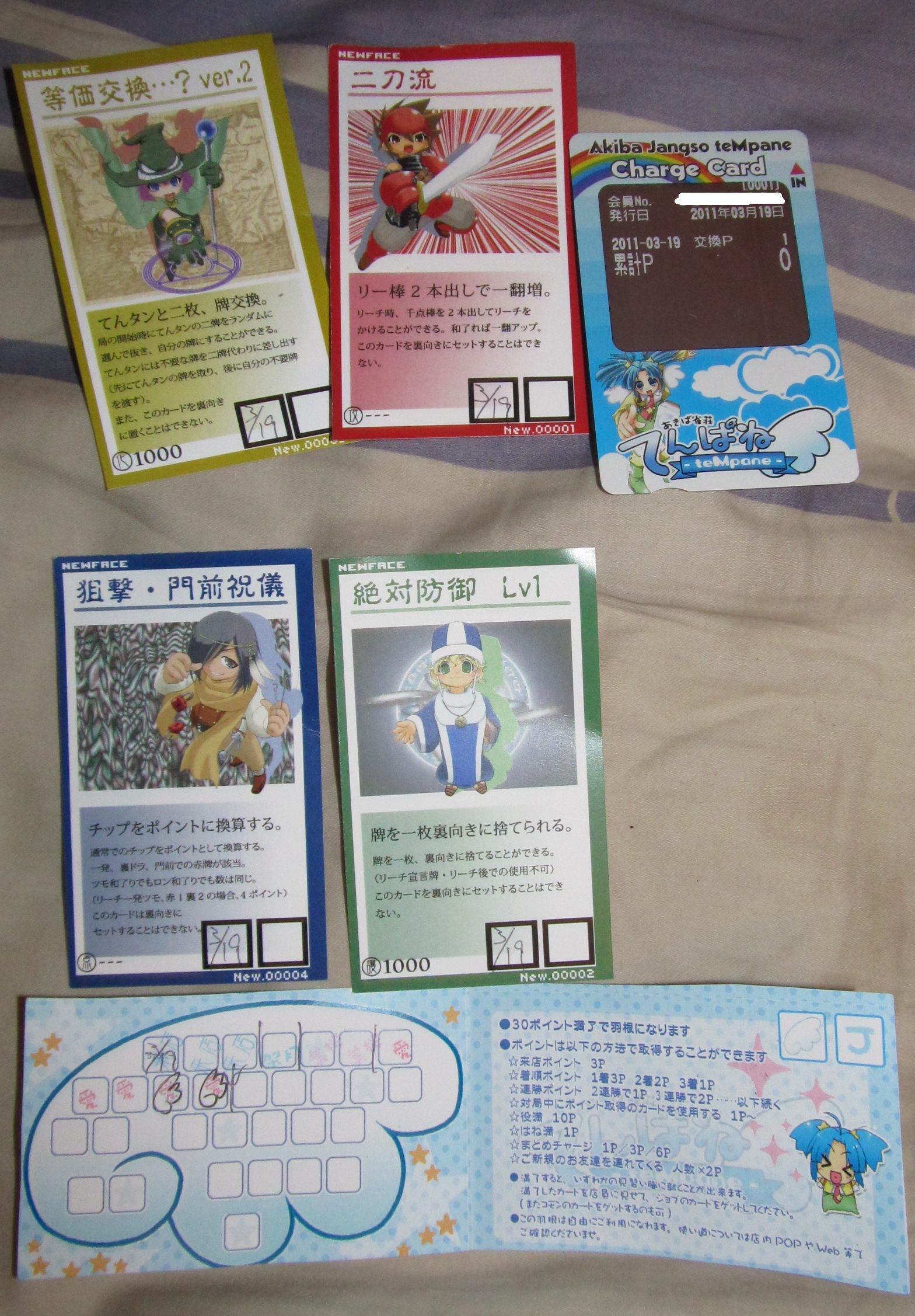 The place was pretty crowded during the late afternoon/evening I was there and people had to wait a bit for each game, but the place had a nice atmosphere to it. One guy hanging out there was an ex pro-wrestler or something.
Games were pretty relaxed too, players usually talking with the girls every now and then and I too had some fun chatting about 2-dimensional topics with them and others. Yea, it's just that kinda place.
One negative thing about Tenpane though is that you don't get much Mahjong for your money. Initial registration, and as it seems even entering after you've already registered isn't exactly what I would call cheap, and 600 yen for a tonpuusen surely isn't either.But I guess the main selling point is explained above.
Conclusion
Some other random facts/trivia which were news to me:
Smoking was permitted and took place everywhere during games
You always register with some kinda handle-name
(non-alcoholic) Drinks are free everywhere (man, where would you find something similar in my country?)
The magic word for switching with a staffer when you need a break is "Daisou" (代走)
Game usually ends if Top player gets above 60000 points
Places had green 500 point sticks
So to wrap this finally up, I had a lot of fun in all 3 places during my Japan visit. Another interesting place I wanted to check out was the Mahjong Museum a bit outside of Tokyo in Chiba, but I canceled my plans after the big earthquake.
Also, I'd really love to have visited hai no oto, Jansou of the egendary Sakurai Shouichi, founder of the Jankiryu-style Mahjong. It should have been possible, but in the end I probably lacked the guts for it. This is an introduction to the Jansou for poeple not familiar with Jankiryu, and it makes a pretty friendly impression to me.
At all the places I described here, it's probably quite difficult, or rather inconvenient, to get by with only english, even if you know all the japanese Yaku other Mahjong-related terms. I'd recommend some basic knowledge of Japanese if you intend to visit alone. Certainly, just because I've been around those places a few times doesn't make me an expert or anything, but if you want to go there and have a few questions, feel free to drop them here. Me or other osamuko-fellows will try to answer them to the best of our knowledge.
Oh, and here is some other Mahjong-related stuff I got while I was in Japan, some of it thanks to Ben: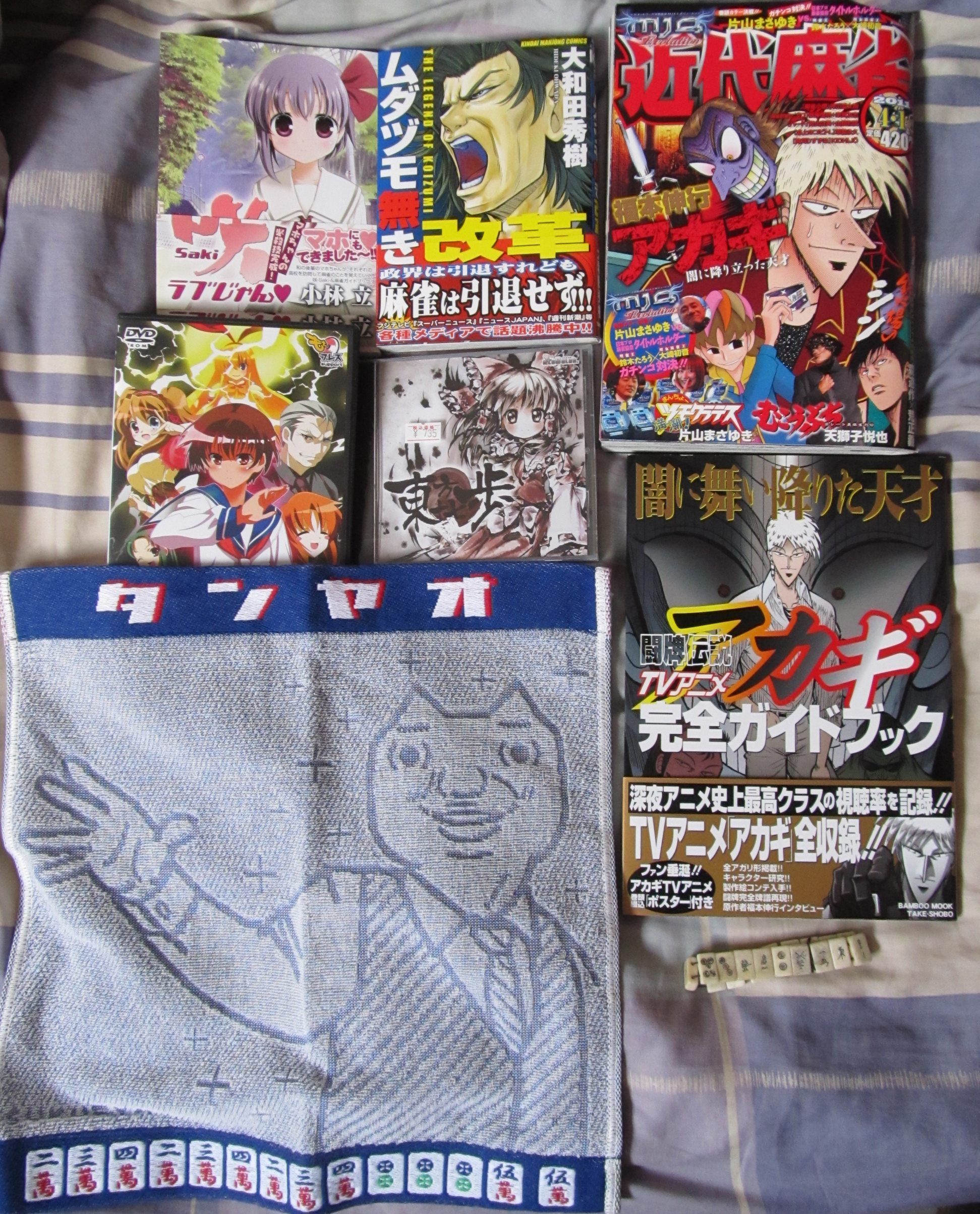 Saki Rabujan (introduces the characters and general Mahjong rules)
Mudazumo Manga volume 1
Kindai Mahjong March volume
Super Herione Wars 4 (Game)
Touhou 17 Steps Mahjong (Game)
Akagi Episode Guidebook
Daddycool MAHJONG EXPERT Tanyao towel
a wristband