Hello there, Riichi mahjong fans from over the world! It has been over a week since another EMA tournament was held. Me, my Slovak mahjong mates and two other #osamuko residents – s25k and ron5 – took part in it. The latter two guys had it easy, since they are from Germany, and the tournament was held in Hannover. But the six of us had to take a nice 9 hour trip from Bratislava. But what wouldn't one do for the chance to play mahjong with other real life people.
We arrived on Friday evening, after a nice drive through the Czech republic and half of Germany. We met our host, s25k, on a parking lot of a local Lidl store in his hometown, ~60km from Hannover. We did have his house in the GPS, but somehow we still managed to get lost. We had pizza for dinner and played a few practice hanchan in his room, filled with animu posters, figures and vinyl records. I already sensed something is not right with my play – I won both hanchan at s25k's homemade table. This wasn't good – from my experience, usually when someone plays well the day before a tournament, they won't fair well on it. But I didn't let something like this silly superstition get the better of me. I can do this, right? Right??
The Kaiser pub, where the tournament was organized, is a nice small family restaurant / pub, where the Hannover mahjong club comes to play and have a nice time. The locals consisted of people of many ages, as is usual in western European mahjong circles. They were very friendly and the atmosphere was relaxed.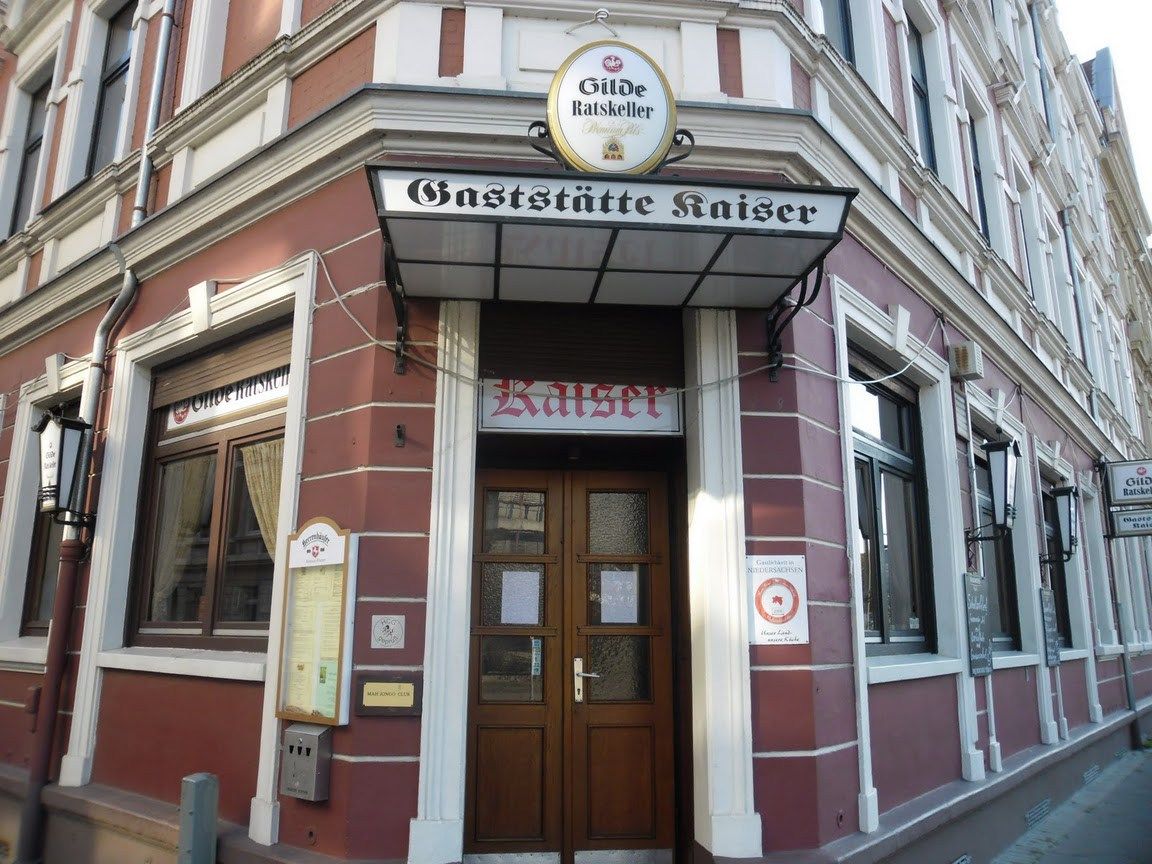 The Kaiser pub in HannoverAfter registration, we received our number, nametag, a small sheet of paper with a seating order (with a blank space next to each hanchan where one could write down the table's score for self reference) and a pack of sweets (neat!). There were 7 tables in the back part of the pub. Sometimes they were really close to each other, so people sitting back to back could almost feel the player behind them, but it wasn't a problem. The limit to 28 players was really necessary.
So, I sit down for the first hanchan, a bit nervous, but I play my best. For 4th place. Ew, well, what happened? Nothing special, I just got hit by a mangan when I was riichi, got tsumoed when I was dealer, dealt into some small hands and didn't do anything else. Whatever, it's just the first game. However, ron5, who we met in the Kaiser in the morning (he was lazy to come the day before from Frankfurt), jumped to the first place with ~60k points.
But wait, I ended up 4th in the second hanchan too! Now I started to wonder if that superstition from the day before came true or something. All I did was sit there at the table while the other people tsumoed, riichi'd on the 5th turn, etc. At least I practiced my defense…
Third hanchan was the same as before. You know when Akagi played against someone, it was him vs the boss, and two sidekicks that no one cared about. I felt like one of those sidekicks through the whole tournament. At least on this hanchan I managed to score a baiman or a dealer haneman or something like that on round 3 of south. That pushed me up to first place. Woo hoo, finally! I can still do this, right?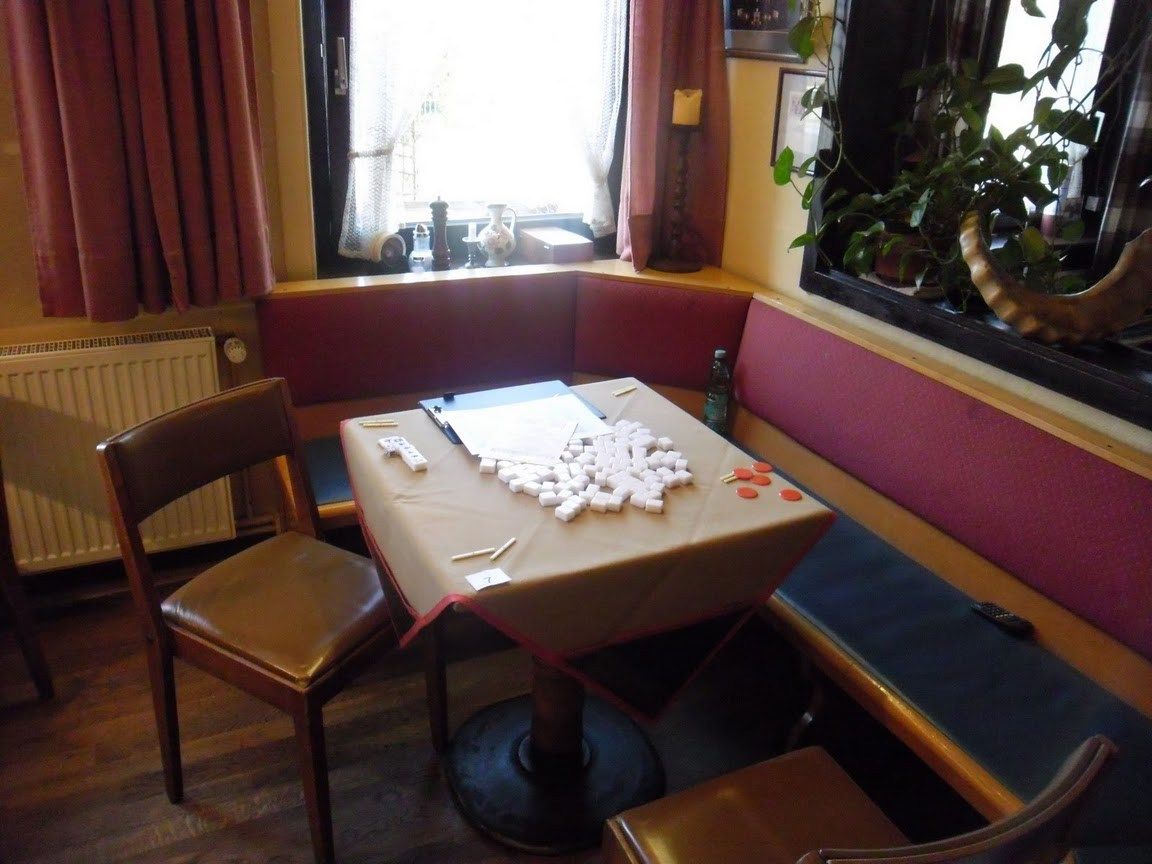 ) A table with tiles. They were totally white. You could put the white dragon down frome either side.The day was over, and after the germans held a meeting about what to do with the local riichi scene, we went to have dinner. A Schwein restaurant provided us with pork meat, and we headed back to s25k's place to play a few team based tonpuusen (2 agaist 2). I was pretty tired by then, but still played an observed others a bit.
Day two had three more hanchan for us to play. After my first place on the third hanchan, I came back pretty encouraged. But no, the riichi gods didn't want me to do anything even remotely successful. Fourth and fifth hanchan meant a 3rd and 4th place for me, with the typical just-a-sidekick feeling I had the day before. And this absolutely manifested itself at the last table of the tournament. I faced three women, where two of them were fans of different German football teams. It was pretty clear who was the Akagi vs Boss duel here. So I just sat there, tried to build hands, and defended against riichi / toitoi / honitsu attempts from all over. Nadine König, clearly the Akagi of the table, had a crazy streak of six renchan, mostly ronning her toimen (the other football club fan). Finally, I managed to do a mangan riichi chiitoitsu and the game was over. I was second, but still 3000 points in minus.
And the results? With an overwhelming lead, the first place went to old timer Richard Stöckermann (all his games were plus scores). Second place got another local, Michael Zahradnik, and the on third place sits Holland's Martin Rep. I also have to mention ron5 on the 5th position and Michal Marko on the 6th, as the best of our Slovak team. And of course our wonderful host s25k, who unfortunately didn't repeat his success from Utrecht, and ended on 19th place.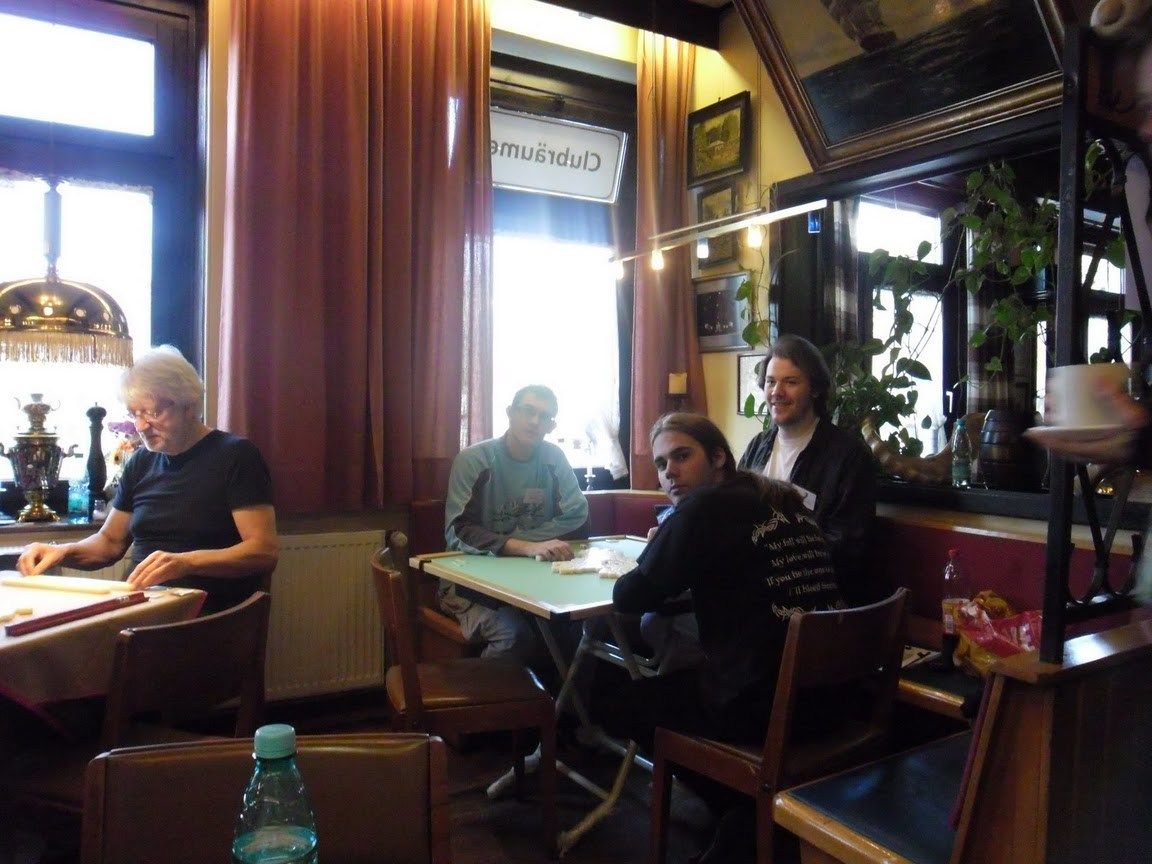 One elite table right here! Martin Rep on the left. And me? 100 points behind Gemma Collinge, on the 24th place. Like a boss. What can we learn from this, though? Well, for one, defense is not always the best way. Although I was very happy with my defense (managed to defend against a lot of really scary hands), there might have been situations where risking it could have changed the outcome. It would be easy to blame everything on bad luck, so I won't do that – but still a bit more luck on my part could have helped a lot. Full results on the EMA site.
Overall, the tournament was very nice, and we really enjoyed staying at s25k's place. But I think this was the furthest we will ever go by car. If we ever go to Holland, France or Denmark, we're taking a damn plane.