This past December just before new years, I had the chance to visit Takunori Kajimoto at his mahjong school in Tokyo. The place wasn't his, but he was going and working there once every week.  It was kinda far away from the center of Tokyo, about a 40 min. train ride towards Chiba, at a place called Funabashi (船橋).
I hadn't seen Kajimoto for a long time and he is usually far away from Tokyo at the museum, so it was definitely worth my time going there. After struggling to find the address for maybe half an hour, I finally arrived right around 11 am and stayed there until around 10 pm when they closed.
As the name suggests, Mahjong School Joy was more of a school than a parlor, but there weren't any classes going on when I was there. People were just playing in a very friendly atmosphere without betting money. I joined them without wasting any time. I could play six hours for ¥1800, which is about the same as your regular set mahjong (setto – セット) at any parlor . That's with a student discount. (Set mahjong is when you go to the parlor with 2 or 3 of your friends and just rent any table).
I think that this place was ideal for any foreigners to try out, since at a regular parlor with money on the table, first timers may get excited and make mistakes, so it's definitely a nice way to start playing with Japanese players without too much pressure. What's better is the fact that it's a school, so it's perfectly fine to make any mistakes.
Another thing I liked there was the fact that rules such as aka dora and double ron that kick up the "gambling" aspect were taken out. From my point of view, this created a more strategy oriented game play, and a better environment for learning and studying mahjong. These kind of rules are really hard to find nowadays, especially in the west of Japan where I was living throughout year. Almost everyone plays three player there, and many parlors have around 12-20 dora in the game. I'll write about those places later.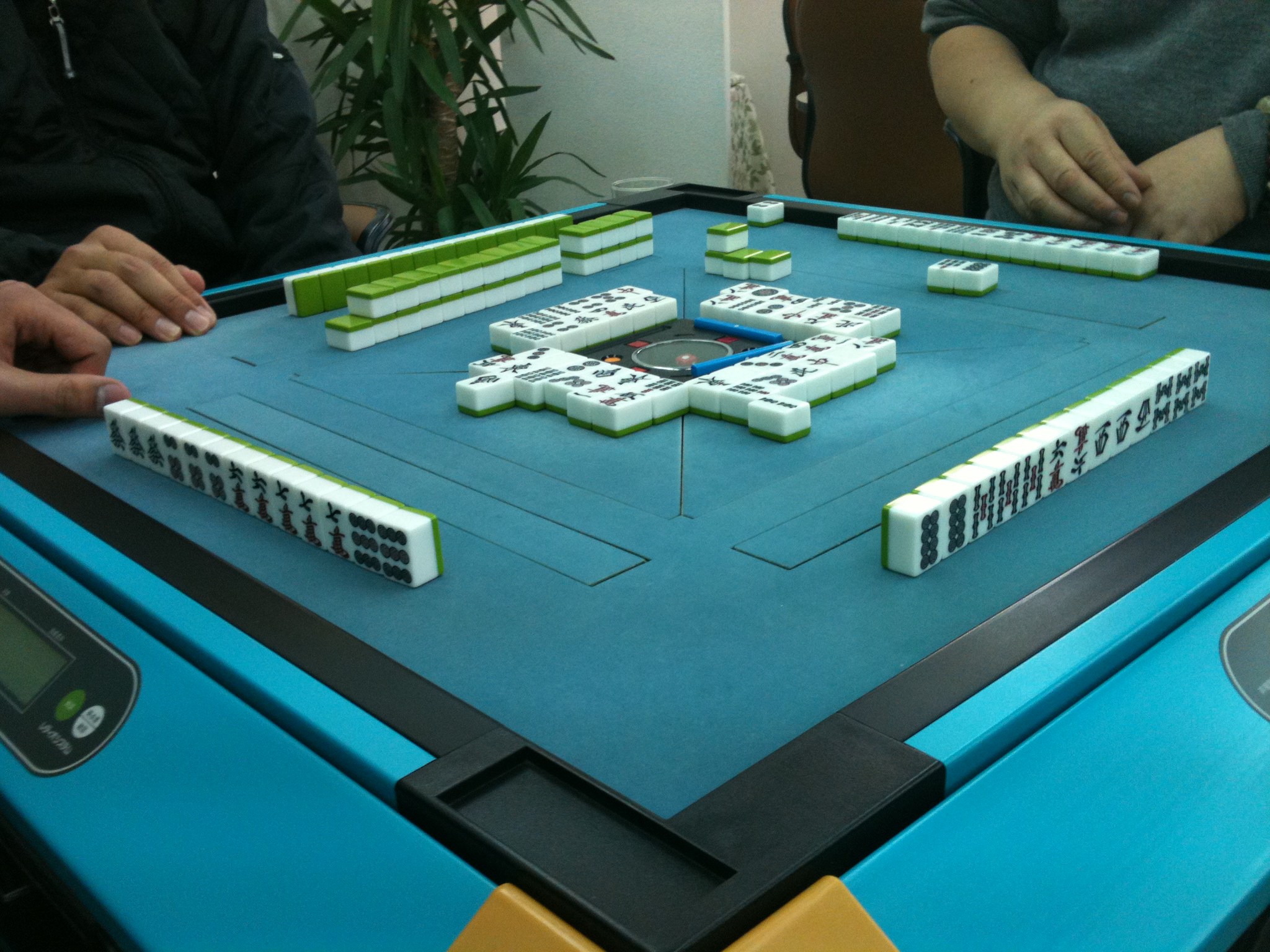 So I ended up playing with a lot of different people, some young beginners, some experienced guys, and even some housewives. Don't remember any results, but I got this picture of my suuankou tenpai. I'm the player on the left, and notice the hand to my right. Two suuankou tenpai's with almost identical waits. (Me 6man and 9pin, the other guy 6man and 8pin). Unfortunately the guy across me ended up tsumo'ing.
I had plans to meet mahjong researcher Benjamin afterwards in the evening, but something came up so he wasn't able to meet me. So I decided to go out, get some amazing ramen, come back and play some more until the place was closed. There is no better feeling than playing 6 hours, going outside for a little walk, a bite to eat, knowing that there is still more mahjong in store. I've never said enough when playing mahjong, and I hope that that day will never come!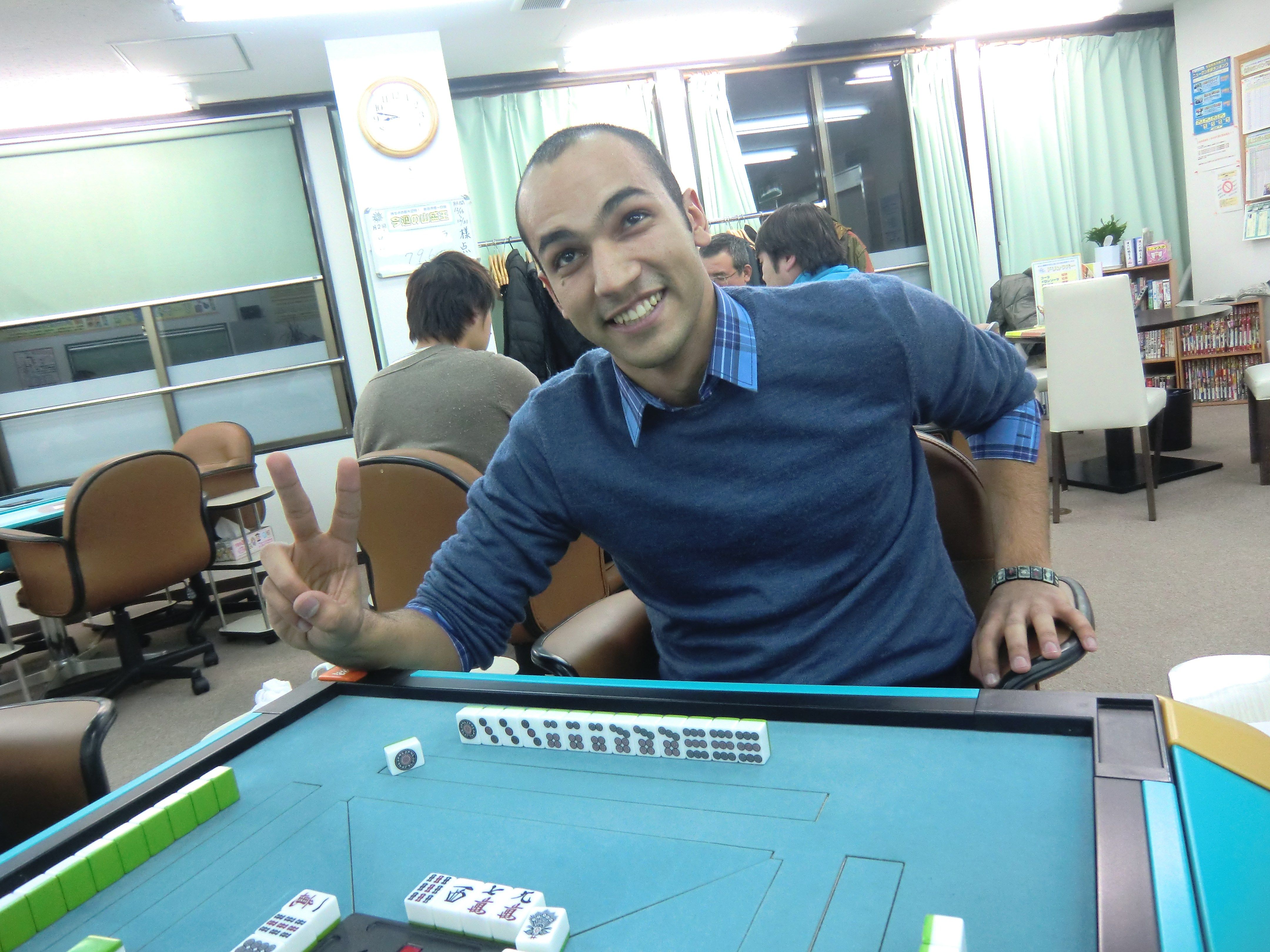 When I came back, I got the suuankou that I couldn't win earlier. And this time I got it chinitsu and tankimachi at the same time, ron from toimen on the 5th turn! Hand of a lifetime maybe. It's supposed to be double yakuman, but the rules didn't allow double yakuman there. Sadly, only time I get a double yakuman, I happen to be playing with those rules, and without any money. Still it was good fun to shock the opposite player with the iiiiipin!
Notice by the way that the hand was also waiting for a 2pin. What would you do if you picked that tile? It's a tsumo chinitsu sanankou, baiman. Worth the win? Or become furiten and try to get a single wait somehow?
That's about it. So if you are in Japan and looking to play long hours or maybe a full day in Tokyo, this is a very nice place to go to. You can play with set mahjong prices but you don't need to bring 3 friends along. Especially if it's going to be your first time in Japan, and you still have that excitement factor that you can't get out of your system, I would say that going here before a real parlor would be a nice way to relax and get the feel.