Interview with CEO of MahjongLogic
This is a looooooooong overdue update. We decided to get an interview with Mr Jonas Alm, the CEO of MahjongLogic a several months back when it was the Next Big Thing and no one knew what exactly they would unleash upon us. To enjoy this article in its entirety please dial your mental time machine back to February. Everyone who ever built a palace of pons online was excited about a new player in the online mahjong industry. They actually had software that didn't look or feel terrible, had signed up various skins, and various pundits had weighed in on the subject. Of course we couldn't be left behind, and promptly secured this interview with the big man himself. But why publish it now, and not back then?

To be honest, the team was rather hesitant to go on and publish the thing back then, because of... well, you can read it and form your own opinions. The whole reason we did this was to provide sorely-lacking info about this new arrival on the online mahjong scene that everyone had been talking about. But after the deed was done, I read and reread the whole thing, and no matter in which light I read it, I felt royally owned. And this is after a revision email begging for more answers. The first draft was even better/worse. It was like meeting the CEO of a certain clothing retailer, known for his personal guarantees, in person.

Now that Mahjonglogic has been pushed out for some time, we at osamuko.com are sure that you will have formed your own views on their software, community and quality of gaming in general. I felt it was safe to haul it out of the dusty draft pile and just leave this here. This is not because we haven't updated in weeks. Noooo. Assuredly not.

First, congratulations on getting your gaming license approved. Please give us a bit of background on yourself and MahjongLogic.
I have been involved in internet gaming for almost 12 years managing casinos and other outlets online. I came across the game Mahjong about 4 years ago and soon realized the enormous potential of the game online. The next massive game after poker without doubt + it caters to the largest market in the world, Asia.

We started out small with only a few developers but this soon grew into a much larger operation. Currently we have our development and operations team in Sweden, gaming license and personnel in the isle of Man and an office in Hong Kong.

We are very dedicated to make Mahjong Logic the place for Mahjong enthusiast all over the world. We currently have 7 signed licensees and are in contact with many others that we anticipate will join our network in the coming months.

Has the EMA contacted MahjongLogic about the possibility of adopting your client as their official online tournament platform, and are there plans to collaborate with the EMA to promote and develop the European mahjong scene in the future? (Ed: Apparently I was psychic and actually called this long ago)
We have been in contact with EMA and will follow up with them shortly to discuss different opportunities in the coming months. We will work with several associations and partners worldwide and our licensees will also sponsor tournaments and competitions around the globe, in addition to other forms of marketing that will generate great awareness not only in Europe but throughout the rest of the world as well.

We understand you are aiming to launch a wave of promotions in the near future. Could you give us an idea of what your plans are?
Mahjong Logic does not operate its own brand however we will promote Mahjong Logic at shows (next one in Macao Feb 23-25), conferences, seminars, magazines, worldwide press and online in order to sign up as many licensees as possible, in turn providing great liquidity to our mahjong network.

Normally, online gaming companies rely heavily on the use of affiliates to market their site. However, there is a lack of online coverage and discussion about mahjong - I can only name a few websites to do with mahjong in English. Are you going to use a different marketing strategy?
Our partners will use affiliates as well as regular online/offline marketing to promote their sites. I think it is a great opportunity for all affiliates to market something new instead of the regular games such as poker, casino and bingo where everyone is chasing the same players. Mahjong will present a new way for all affiliates to make money, and will be a great addition for cross marketing as well. Furthermore, the game is currently available in English, simplified and traditional Chinese and Japanese. We offer 3 rule sets today but will add more rules and languages in the coming months.

As you know, online gaming has developed so far that many people around the world make a living from playing poker online professionally. Do you think it will be possible to do so on MahjongLogic?
Definitely. We will offer a range of tables and game options to cater to both novice and professional players.

To make MahjongLogic a success, you will probably have to convince many people who have never deposited money on a gaming site before to do so. Do you have a strategy to attract them to risk real money for the first time?
Players in Asia are custom to playing mahjong for money, in this area of the world I think it is more about finding the appropriate payment solution and game setting for our players. In Europe and the Americas people are used to playing for money online and accustomed to all the many payment options available. In these markets I think it is more about presenting them with a new game and opportunity to play for fun or money online.

People who are playing for real money may be concerned about the threat of collusion between other players, as well as the general safety of their funds. How strong are the security measures implemented?
We are licensed in the Isle of Man and the game and RNG is approved by eCogra. All player funds are secured by the Isle of Man government, we as the license holder always have to keep a balance of the total player funds in a trust account monitored by the government as security. The system have many controls and settings to detect and avoid collusion, this along with our experienced team who monitor players and the system 24/7. No other Mahjong network is licensed and approved by a reputable gaming jurisdiction, hence giving us a lot more credibility and security for our players than anyone else can offer.

What do you think of the online mahjong scene in Japan? Are you planning to attract Japanese and Chinese players to your client as well?
We will cater to all markets. We are currently working with 2 Japanese groups who are evaluating our rule sets, game settings and presentation of the game. We will receive their full report in the next few weeks and adjust our system accordingly in order to cater fully to the Japanese market. We also have several partners lined up in Japan and will launch online tournaments, leagues and online qualifiers together with them during Q1.

What is your favorite board game, and what do you like about it?
Backgammon, it's a great game involving both skill and luck. I have played since my days in college and never seem to get tired of it. Then of course Mahjong, although I don't hold the same skill level here.

Your favorite hand in mahjong?
Seven Pairs (Chii Toitsu), mainly because I was playing at a $5 table at one of our partners game clients, received this hand and of course won the entire pot.

Do you have any personal goals for 2010, for yourself and Mahjong Logic?
We will work hard to establish the Mahjong Logic Network as the place to play Mahjong online, against players from any part of the world. We are already signing international partnership deals and have agreed to sponsor major events in order to facilitate growth and acceptance. We have also a wide range of features and improvements to be release in the coming months that will cater to a vast global audience.

End of interview.

I think it's pretty obvious this isn't an ad or anything. We don't carry ads on the site. We don't even have an affiliate link to any mahjong sites, and not for the lack of offers. It's just that making infinitesimal bits of money here and there off some clicks and rake and whatnot was never our goal when we started up the blag, and you can be sure we haven't changed a bit. The only costs we (well, Osamu) have ever had to cover are for the domain and server, and delicious tacos.

Indeed the first time Osamu got the server we didn't know what we could do with it. For some reason it just sat there until it occurred to us to run a private Ragnarok Online server off it. Later on it would be used by Alvin for something involving tenhou logs and statistical analysis that I am unable to explain. After a year it expired and we are now serverless. I am not even clear about our current hosting situation but if you know any nice deals it would be nice to let us know.

To pad out this article here are some of the things we did on mahjongRO. A good time was had by all on the server, with the exception of Osamu who made a knight and died a lot. Even Plate was seen killing roda frogs near Geffen.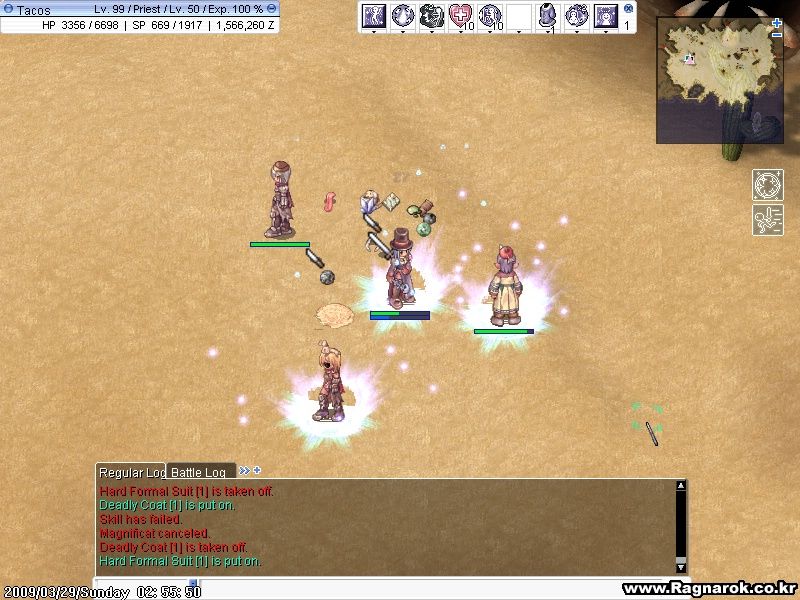 Pictured: Iyas, Me, Speedwagon, CrixPhreeoni with Speedwagon the Soul Linker.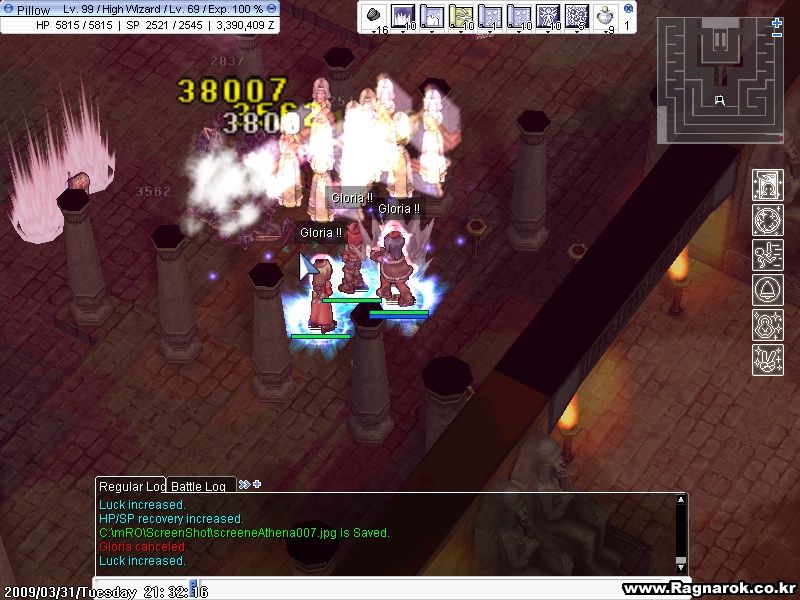 Amon Ra with Speedwagon the Sniper.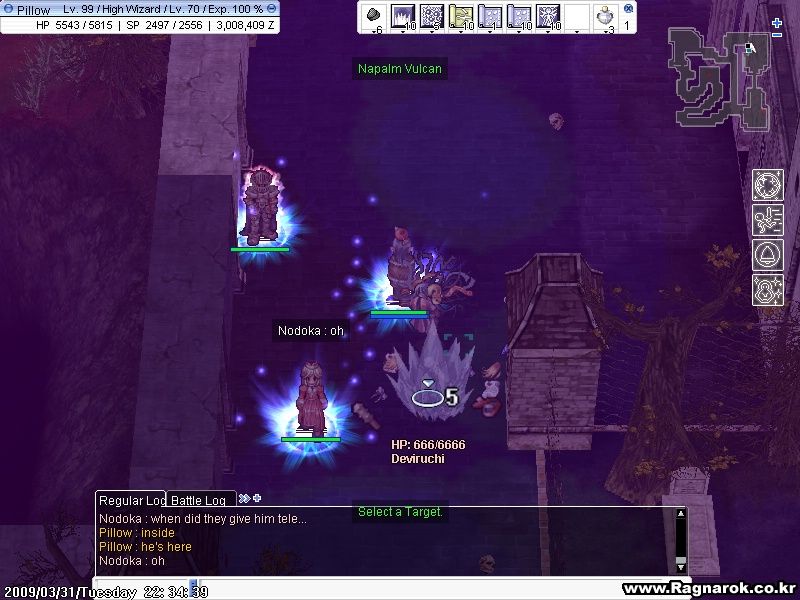 Doppelganger with Speedwagon the Paladin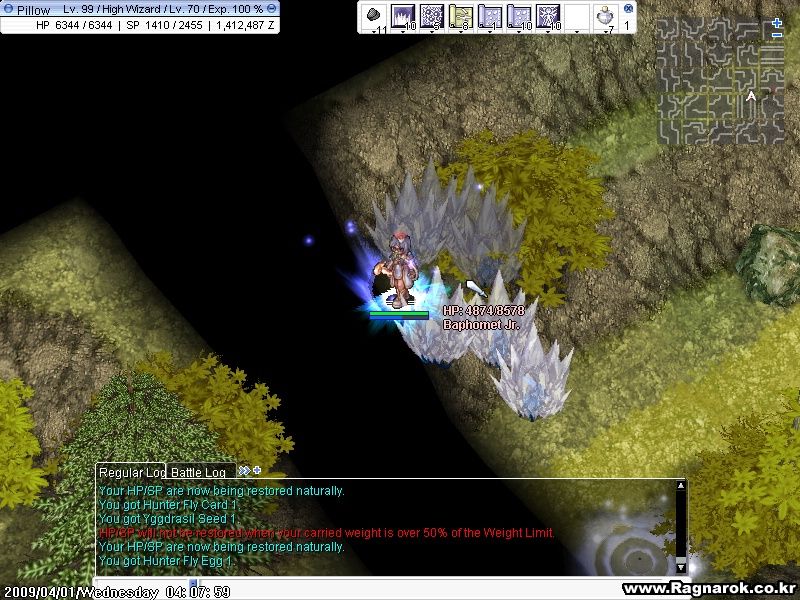 No point doing things the easy way. Speedwagon is not playing the Baphomet Jr.