(Featured photo and various parts of this post are from Mahjong Watch
in October of 2016, after finally planning my first ever trip to Japan with Daniel Moreno of PML, I emailed Shingo Tsunoda, creator of the online mahjong game Tenhou.net, to ask when the next Tenhou Real Trial would take place, however he did not know so I instead asked him if he would like to play mahjong with us. The original plan was just to meet in a Jansou and rent a table for a few hours but Tsuno had a different plan. He instead rented 3 tables at the RTD (Riichi Tsumo Dora) Lounge, a jansouesque lounge set up by ex-Saikouisen professional Toshimasa Chou whose aim was to create a space to play mahjong that does not have the bad connotations that jansou have.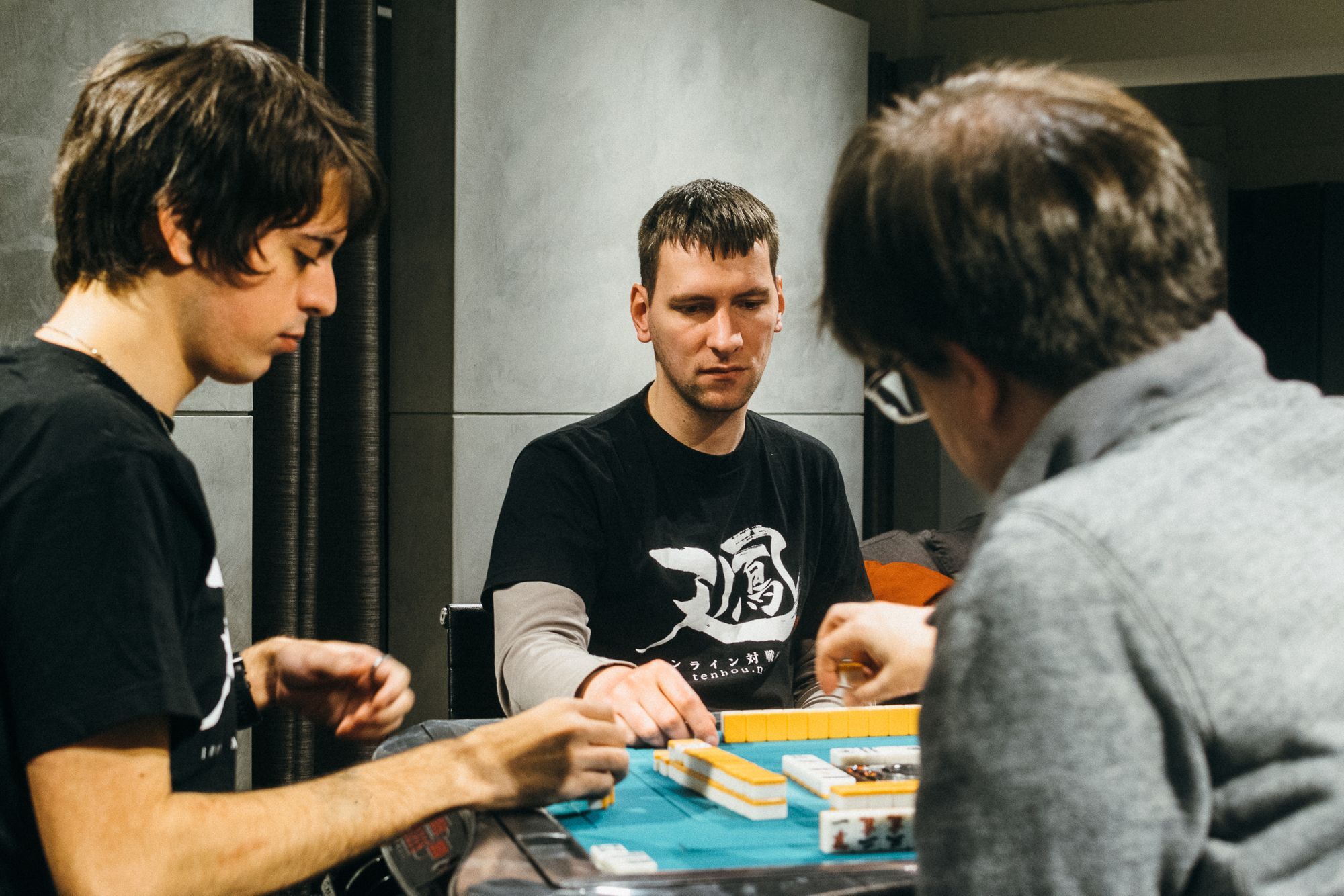 Once the venue and date was decided, Tsuno and I sent out invites to six people each. Interestingly, I had sent invites to 4 westerners and 1 Japanese person while Tsuno sent his invites to 4 Japanese people and 1 westerner. The final list of players were:
ディビッド(David Clarke / @kagakushaa)UK
ダニエル(Daniel Moreno / @xDasukex)USA
マティアス(Matthias Kohler / @ganbariyadays)Germany
ジョン(John) USA
マサ(Masahiko Takahashi) Japan
ライアン(Ryan Morris / @ikareryan)USA
つの(Shingo Tsunoda / @tsuno_s)Japan
福地(Makoto Fukuchi / @fukuchinko)Japan
きめっち(Nicolás Giaconia / @_xkime)Argentina
今井(Imai / @ocky3050)Japan
松井(Matsui / @tkc108)Japan
taroo(Taro Kawashita / @taroo2636)Japan
Schedule:
Schedule at 2016/2/26(Sun)
13:00-18:30 Game
19:00-21:00 Dinner / A little get-together
Matchups and scorekeeping was arranged by Mahjong Watch's Taro Kawashita, there was no particular method to arranging the matchups but he did attempt to minimize the amount of times the same people played.
For dinner we went to Tsurutontan just around the corner and had Japanese Udon.
Apparently Tsunoda got some flack for not making this event more public, especially to westerners. This was mainly my fault as I was handling invites for westerners. I hope if there's ever a next one (2018 perhaps?) we'll be able to be more public.
Results:
1 Ryan 167.8
2 Matthias 111.2
3 Imai 79.2
4 Daniel 37.9
5 John 11.9
6 David ▲3.3
7 Fukuchi ▲18.2
8 Nicolas ▲27.5
9 Tsuno ▲53.4
10 Masa ▲78.9
11 Taroo ▲82.9
12 Matsui ▲143.7
As you can see, the westerners clearly dominated.