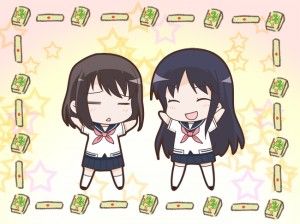 Hi guys, this is a small report on the first week of the mahjong league.
Over the course of our first week, we've logged over 100 unique IDs in games, and by the time I've finished writing this, over 200 matches will have been played in this week alone. People are playing mahjong, people are talking mahjong, more and more newcomers are flooding into the IRC channel and sharing in the fun.
It's been a good week.
There's lots of people we have to thank for this, Senechal, Osamu, xkime and the rest of the gang, and people we thank in advance, for future efforts (the scoreboard, get to work on it, Alvin!) However I'd like to thank all of you guys as well, whether you saw a bunch of random dudes playing and jumped into a game, or read our brief news post on it and decided to participate. We're still making it up as we go, but you've gotten us off to a terrific start.
If you're reading this, and you have an interest in mahjong from works such as Akagi, Saki, or that Koizumi manga, if you're someone who has always wanted to mess around in a no-stress environment, or maybe you've got the basics down and want to see how far you can go, this is a good chance to take a first step into playing online. I'm sure there's someone out there who's put some time into the gamedesign flash game, but has yet to make the transition into online play because he's afraid of pissing into someone's cornflakes. Although introductory material isn't our focus, we do have some beginner material linked above, and I'll put some more work into it soon to round it out.
For me and many others, it's a chance to prove to ourselves as well as others that maybe we're not so bad as we must be. Much like many Japanese interests online, it's assumed that if you're not actually Japanese, you're already many tiers below a veritable pantheon of people whose names should mean something to you. Well, I've never been well known for my play, but I've been improving one hand at a time, and it's awesome to post up some solid results and know you've been holding your own against all comers.
I normally don't like to use the word community, as it seems to me kind of buzzwordy, but even I can't deny that this is undeniably what we've got here – a bunch of people who hang out regularly, and we're growing fast. We have people trashtalking each other, dissecting hands, posting screenshots, discussing strategy, keeping up commentary on spectated games. If you're into these things, we're speaking your language. We're having fun, you should join us.
Ultimately mahjong is the story of one player versus the world, but that doesn't mean we can't play alone, together. See you ingame!