Graz Open Riichi 2011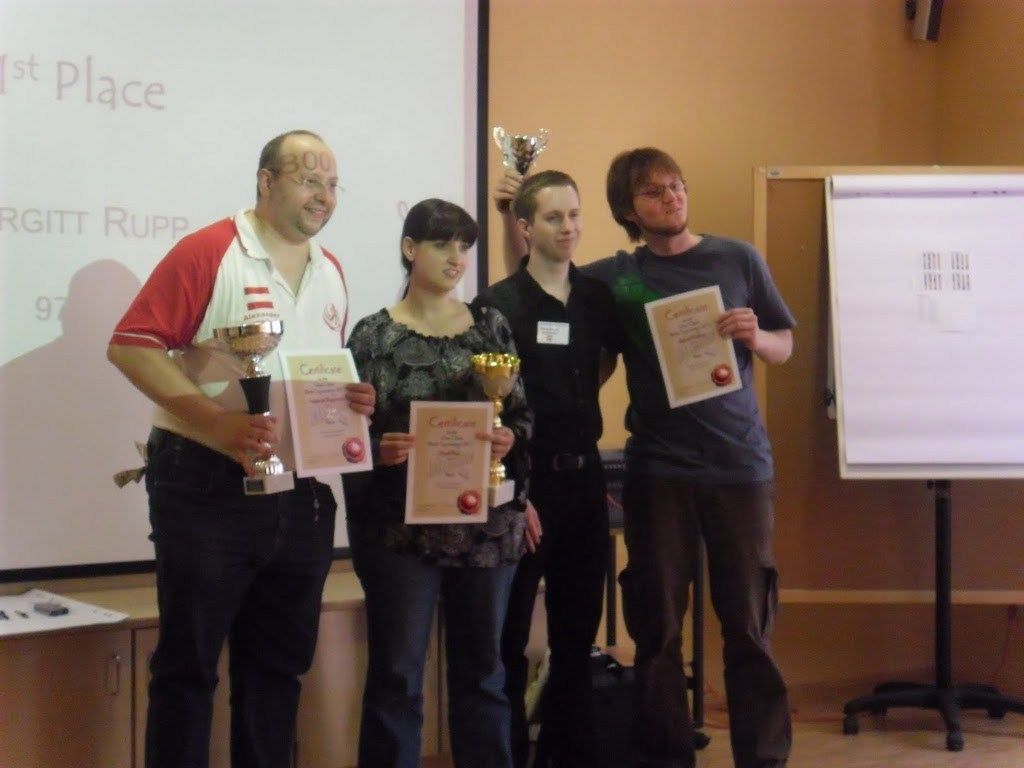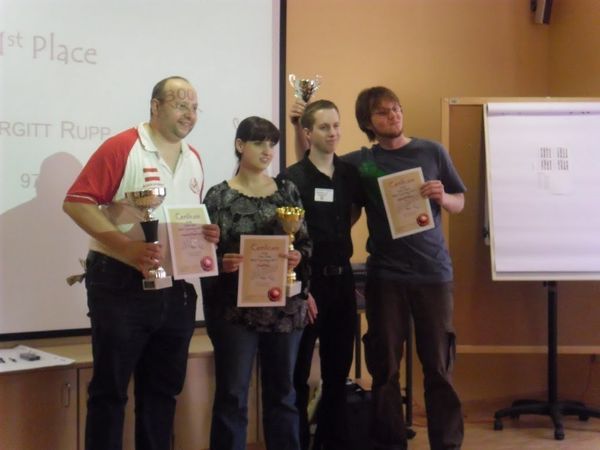 Here I am again, with another real life tournament report! Also, fourth post on Osamuko in the past 7 days? Is the end of the world near? Well, this was my third riichi mahjong tournament, and the furthest too. It looks like the more tournaments I go to, the more distant the venue is. Anyway, after Baden, where our Slovakian team played pretty well, we decided to go to Graz – a nice town in the southern part of Austria.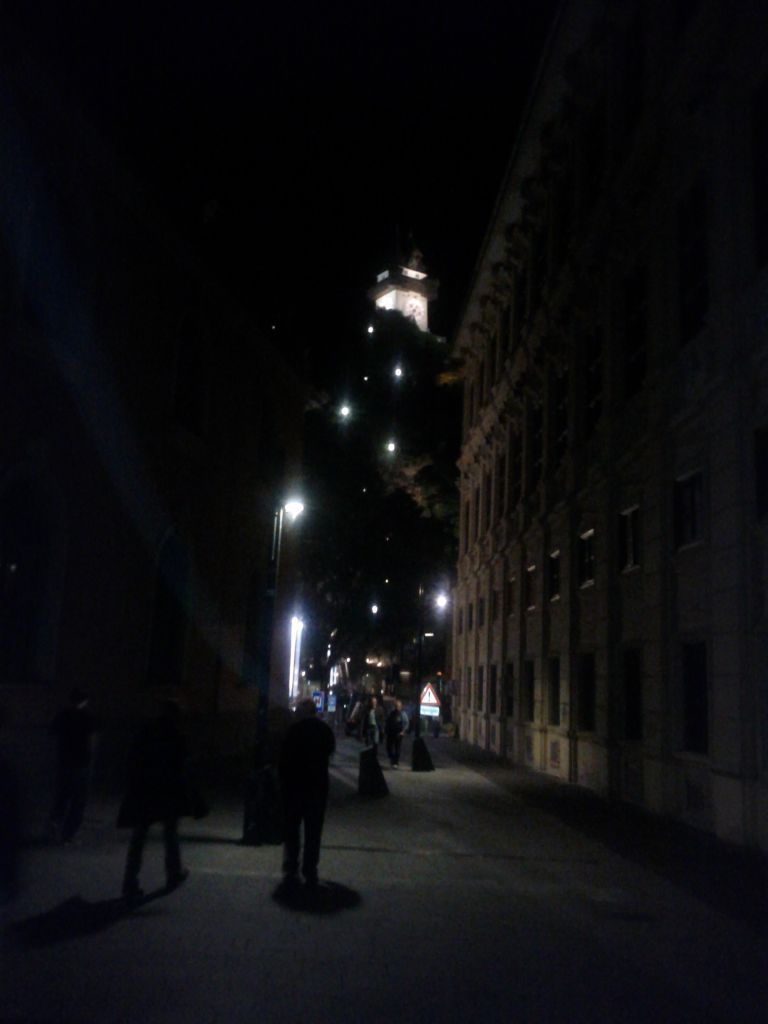 To get to the clock tower, one has to go up over 9000 stairs. Or take a lift for 80 cents.After struggling a bit with the number of participants, the organizers managed to secure 16 players without problems (there might have been even 20 if one more player could've been found, shame). 9 Austrians, 5 Slovak, 1 Dutch and 1 Italian players arrived. Some of them (including us) even the day before, using this opportunity to have a Schnitzel dinner with the organizers and walking around the town.

The tournament was held in JUFA Gästenhaus – a very nice hostel with many other facilities, like conference rooms, climbing walls and playrooms for children (we didn't try those out though :<). We also slept over there from Friday to Saturday, so it was really convenient.

The organizers were really well prepared, with 4 mahjong tables brought from Baden by Alexander Doppelhofer, a large projector screen which showed the player seating for each hanchan and the overall score standings – with a very nice effect when updating them. Also, lots of home made muffins! We also liked that we all got a nametag with our name, country flag and a mahjong tile sticker that we got by registration, which identified us throughout the tournament. Really seamless and professional.

The tournament venue main gate. A nice and relatively cheap place to sleep over in Graz.
Before the tournament, the organizer Alexander Wankmüller went over the basic stuff, and also introduced a new rule that they received from the EMA executives. A change was made in the way how a hanchan ends at the end of the time limit.
Before, the time limit was 90 minutes and after the last gong rang, you had to stop playing your game – even if you were in the middle of it. This wasn't really good, so the new rule tries to cope with this. Now, a gong is rang 15 minutes before the 90 minute limit. After this gong, the players must finish their current hand, and after that they are entitled to one more complete hand – regardless of the time limit.
I find this rule to be much better than the cutting off one. It might also help with going too much overtime – if you start playing a game 1 minute before the 90 minute limit, and you would be allowed to finish it, it might take another 10-15 minutes. With this rule, more games will end even before the 90 minutes are up.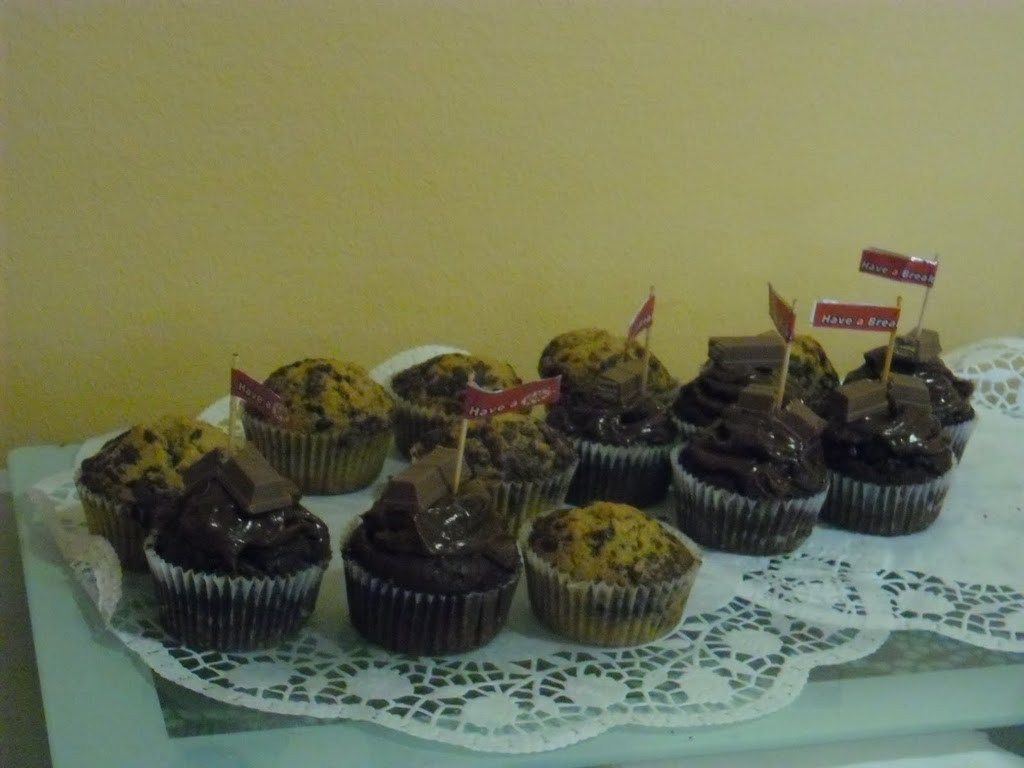 Mmmm, tasty muffins with mahjong themed topping!As usual, I'll try to summarize my thoughts about my success in the games. First hanchan was alright for me, although I screwed up a few decisions. I still won the table, but I could've had a lot more points. The ~34k points I got here helped me to get to the 1st place after the first hanchan, but it just went downhill from there.
During the second hanchan we got pretty much destroyed by Birgitt Rupp, so I just tried to minimize my losses. Ended 3rd and with -1.4k, which wasn't that bad. But after this hanchan, Alexander Doppelhofer jumped up to first place with whopping 75k points. I descended to 2nd and proceeded to face him in the 3rd round.
Instead of pushing forward though, the whole round was full of small hands. In the end I wasn't able to beat Doppelhofer, who scored nicely with a haitei tsumo and kept his lead. But 2nd place with ~6k points wasn't that bad either. But what would you know, from nowhere Birgitt Rupp charged and took over my 2nd overall place.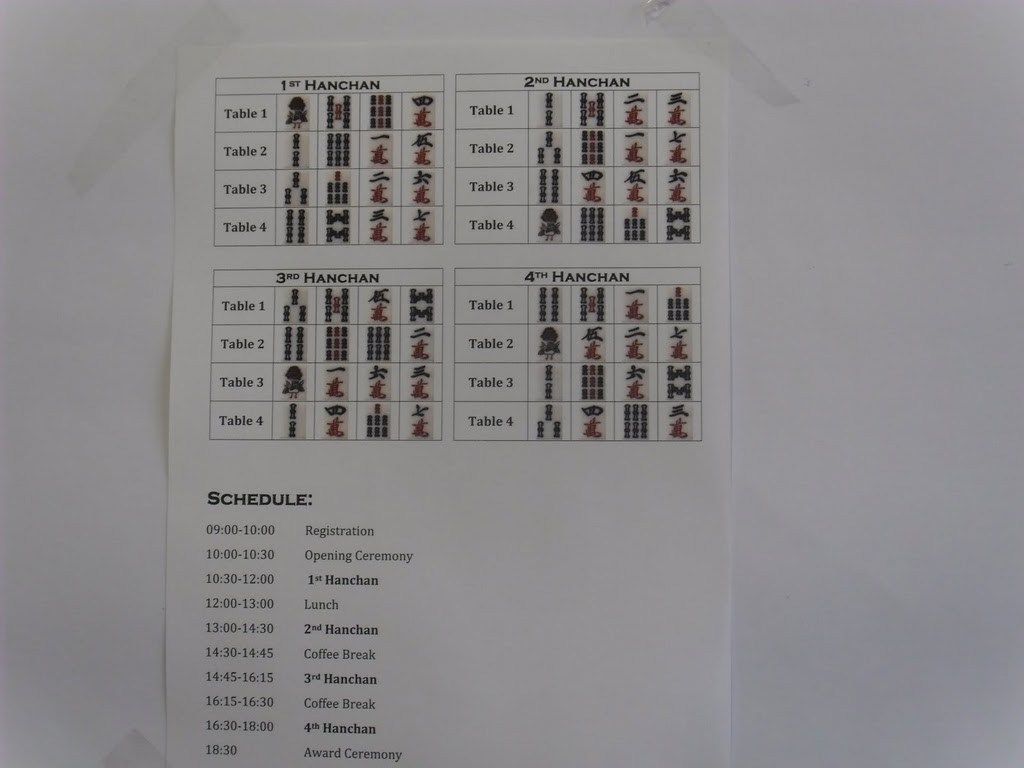 This is how you knew where to sit and who to play against. I entered the 4th hanchan with knowledge that I had to score some points to maintain my 3rd place. I thought it should be OK, but I was wrong, as usual. I got better at not dealing into people's hands recently, but still sometimes I get a really bad streak. And it just so had to happen in this particular hanchan. Crap. I can be glad that I finished 3rd with -6k points, which cost me the bronze by 300 points ;_;
So in the end, three Austrians made the top 3 – Birgitt Rupp as the winner (destroying everyone with her 97k), Alexander Doppelhofer as runner up, and Rafael Hobbiger at third place.
The tournament was really nice, although our Slovak team didn't play the best – I may have maintained my form, but the other guys had more problems. But still – it's a game, we enjoy it, and we can take this as experience to help us get better. Also I can't really complain, because the 4th place shot me straight up to 18th place in the EMA ranking.

The winners. From left: Alexander Doppelhofer (AUT, 2nd place), Birgitt Rupp (AUT, 1st place), Alexander Wankmüller (organizer), Rafael Hobbiger (AUT, 3rd place)
The official results can be found here. We would like to thank the organizers for a great tournament and we hope to see each other next time. Oh, and sorry for no real action pictures. I guess we were all too busy to take them. But the organizers will hopefully publish theirs sometimes soon – watch their site.